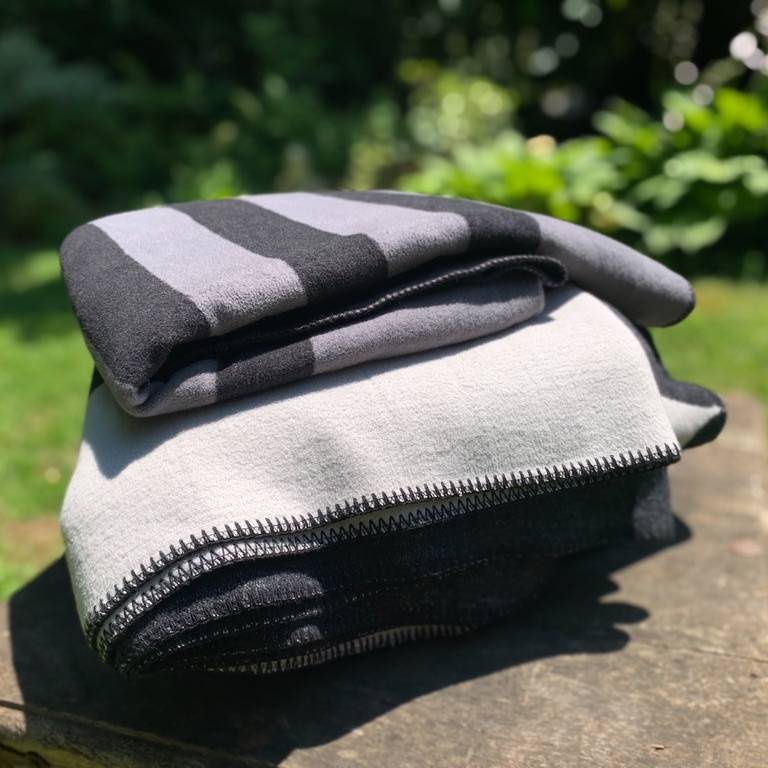 You might have guessed by now - but we are full on obsessed with beautiful blankets that you can take outdoors. Blankets make any space cozier, instantly.  We toss them on a sofa or chair and all of a sudden our homes are more inviting than ever. Same goes for outside. 
Cozifying your outdoor space with blankets is a breeze when you mix different textures, colours and patterns. We love high contrast (black and white or light greys and dark greys) but you should have fun and combine whatever colours you love. Everything gets better when you snuggle up with a blanket or throw outdoors.
This past year we made sure to start everyday with coffee and breakfast outside on our deck. That's right - even through rain, wind and snow. As long as you are warm and dry - the benefits of a little extra vitamin D (from sunshine) and fresh air are unbeatable. By the way, even in winter we wear an SPF of at least 30!
Cotton blankets are a really popular choice because they are soft and breathable and there's nothing lovelier than having them brush against your skin. They are also easy to throw in the wash.
Woollen blankets are ideal when the weather gets colder - as wool is one of the warmest fabrics out there to keep out the cold and wind.  Alpaca, merino, cashmere and lambswool are warm and soft to the touch. Cashmere is actually one of the warmest wools and the softest. If you have coarser woollen blankets at home  - that's great too - just make sure you layer them on top of your clothing so they don't make you itchy. 
Getting outside is not about being perfect. It's about being comfortable and extending your living space as much as you can. Getting all wrapped up in blankets outdoors is as good for your heart as it is for keeping you snug and warm.
We use our blankets indoors and out but we store them inside. If you store them outside in a blanket box just make sure they are in a fully sealed container to protect them from the elements when not in use.
Take a few moments out of each day just for you. Grab a coffee and a blanket and don't forget to savour a moment in the beautiful outdoors!
Susan
---
← Older post Newer post →